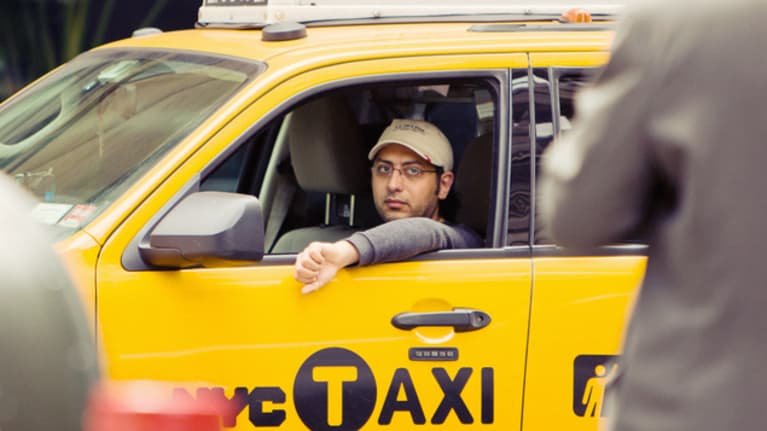 If you want to get home without having to call the police, DON'T pick up a taxi from www.islingtoncars.co.uk.
2am, Monday night. We finish up an evening of teppanyaki dining, access all areas passes and tourbus shenanigans. Needing to get to the other side of London, one of the roadies hands over a number of a taxi firm. Within minutes, the driver arrives and we get in.
"How much will it be?"
"£30, is that ok?"
"Yeah, fine."
The journey goes without hitch until, at Surrey Quayes, the driver pulls into a petrol station.
"I need you to give me money for my petrol."
"Err, no. We'll pay when we get home."
"No, you must pay now."
An argument ensues. The driver threatens to phone the police, but I swoop in first and beat him to it.
"Can you tell me where you are?" the policewoman says.
"I'm not sure," I respond. "I'll ask the driver."
"I'm not telling you," replies the driver, getting more and more red-faced.
Shouting continues until the police arrive.
"I don't think they'll pay me, so I want them to pay me now," explains the driver.
"Why would we not pay you?!" I question. Since public transport back to our house still requires us a lengthy walk – uphill too! – we regularly take taxis. And always pay. And sometimes even tip.
The policewoman intervenes.
"Can everyone stop shouting? I've been called out here on an emergency, and quite frankly, this is anything but an emergency. This is a waste of my time!"
3am on a Tuesday morning is a busy time, right? Maybe if it was a single woman in the taxi she might have perceived the situation differently.
"Have you got the cash for the taxi?" she asks.
"No, the cash point doesn't work. But there's one at the end of our road before we get home and we planned to get it out there."
"Right, well, how about you get back in the taxi and we'll follow you to the next cash point. You can get the £30 out there, and then he can drive you home, and you can pay him when you get home."
We all agree. We stop at the next cash point, and I withdraw the fee. The police, not even out of their car, shout across "Have you got the cash?"
"Yep."
And off they go.
"Right, now you pay me," the driver says.
Flabbergasted.
"No, the police said we'll pay you when you take us home. We're still at least five miles away." The driver had clearly lied about needing petrol, since he didn't refill at the station, and we didn't want to be fleeced for thirty quid and stuck on Lewisham High Street at 3am.
"You have to pay me now."
I'm about to go mad. I've got a flight to catch in a few hours. I could've been home already. Instead, he continues to argue – bizarrely – that we must pay him in the middle of the journey.
One final attempt, I think. "Listen, we're not paying you before we get home. If you're not going to drive us home, then we'll just call another cab."
He stands fast. "No, you pay me now, or I'll phone the police again."
"Fine."
We walk to the train station – having paid our bitter driver not a penny – hoping a black cab might be sloping around, waiting for its final customers of the evening. No luck. We telephone our wonderful local taxi firm, who pick us up in no time. He drives us straight to our door, as we recount our experience, which dumbfound him as much as us.
"How much is that?" I ask, as we pull up outside.
"Eight quid please love."
"Here's ten." I smile.
We're finally home.…